Self-Seal Sterilization Pouches
When it comes to self sealing sterilization pouches, most people have a misconception that all self seal sterilization pouches are the same. However, in reality, it is not true. You should always invest in a self-sterilization pouch that is made of medical-grade surgical paper, a self-adhesive strip, and a transparent polypropylene/ polyester laminate film. At Aarohi Steriliant, we adhere to a quality system and keep community health as our top priority while manufacturing self sealing sterilization pouches.

On the paper surface, water-based, non-toxic process indicators complying with ISO 11140-1 recognize the difference between unprocessed/processed packages after steam or ethylene oxide sterilization.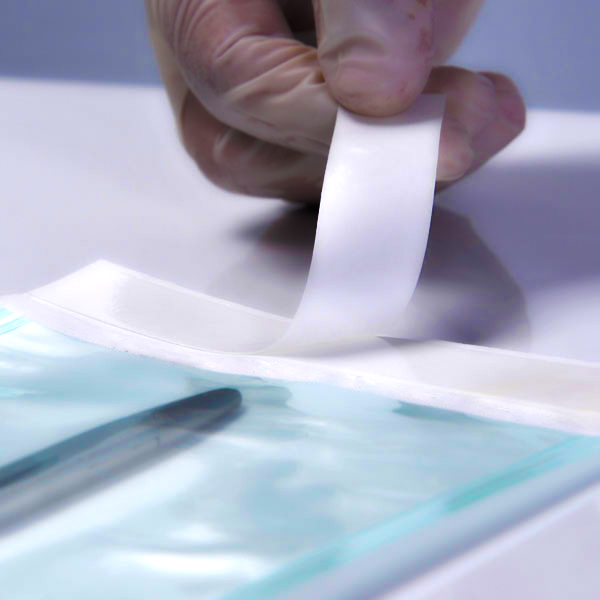 What Makes Our Product Unique?
Our self-seal sterilization pouch has a strong self-seal design. With double-sided tape, our product is easy and quick to seal without professional sealing equipment. We use 60gsm or 70gsm medical grade paper as an effective barrier against bacteria and germs. The film is easy to peel, and it lets the film separate from the paper without any shattering.

We use a triple band seal, for higher security integrity packaging, and to avoid crack. Usage of non-toxic water-based ink ensures that text displays clearly and easily fades away.
---
What Makes Our Sterilization Reels Unique?
Applications of our self sterilization pouch are as follows.
It can be used in hospitals and clinics for sterilization packaging.
Beauty salon owners can use it for the sterilization packaging of their salon equipment.
These self-sealing sterilization pouches can be used in syringes and other medical equipment packaging.
You can use it for household high-temperature sterile packaging.
Our self seal sterilization pouch is the perfect pick for sterilization packaging of laboratory equipment.
Let's Team Up & Protect Your Equipment From Contamination
At Aarohi sterilant, we offer quality assurance and perfect after-sale services. We manufacture a professional and customized self-sterilization pouch that is highly resistant to bacteria. To know more about our products, feel free to call us today.
---