Bowie Dick Test Sheet
---
Do you know what can be a real threat to sterilization safety? It is air leaks in the sterilization chamber. If you are also struggling to find the sterilization malfunction at the beginning stage of the sterilization process, invest in our bowie dick test sheet.
With the use of our bowie dick test sheet, you can easily find out sterilization malfunction at the early stage. Our bowie dick test pack sheet is designed to monitor pre-vacuum steam sterilizers and find out if there is residual air or not. The sheet's color will get changed from blue to black whenever it is exposed to the steam Sterilization Pouch cycle.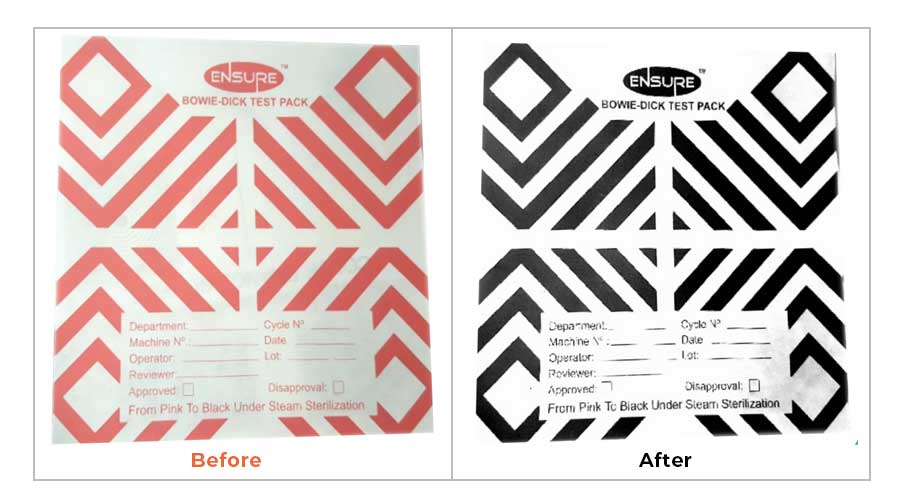 How To Use Bowie Dick Test Sheet?
You can use a bowie dick test pack every day in an empty sterilizer before processing any loads. Follow the below-mentioned steps.
First of all, you need to assemble the bowie dick test pack in a dry towel and place one bowie dick test sheet in the center.
After that, you need to run a warmup cycle. It will appropriately heat the sterilizer.
You are required to place the towel pack on the bottom of the sterilizer.
After it, run the sterilizer for 3 to 3.5 minutes at 134°C.
Now, remove the towel pack and let it cool.
After that, you need to remove the indicator sheet from the towel pack.
Remember, if the indicator sheet is still warm, do not put it on a cold surface; otherwise, the indicator will return to its original color.
How To Interpret The Test Sheet and Pack?
If there is no malfunction in the sterilizer, the indicator sheet will display a uniform color change. If the air is present, the indicator sheet will show a blue area in the center. The impressive thing about our bowie dick test sheet is that it conforms to ISO 11140-1 and 11140-3.
---