Sterilization Roll Manufacturer
---
ENSURE Sterilization reels are used as a packaging solution for sterilization applications. They offer complete protection against contamination of medical devices. Therefore, medical devices will remain secure from bacteria and chemicals during the sterilization process with the use of sterile medical devices.
Uses Of Sterilization Reels
ENSURE Sterilization reels offer safe and sound solutions for clinics and dental practices. Sterilization wrap rolls designed by Aarohi Sterilant, you can use in steam, ethylene oxide, and formaldehyde sterilizers. These sterilization wrap rolls offer an effective and secure solution against re-contamination after sterilization.
On the paper surface, water-based, non-toxic process indicators complying with ISO 11140-1 recognize the difference between unprocessed/processed packages after steam or ethylene oxide sterilization.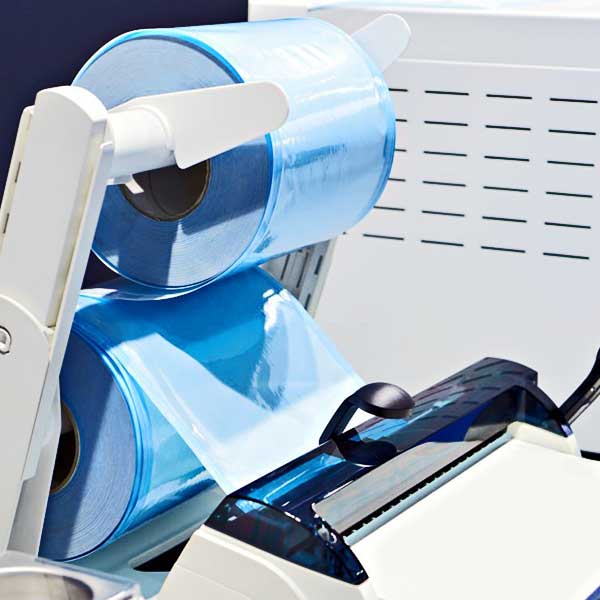 Why Is It Vital To Use Sterilization Reels?
Nowadays, preventing infection is quite important because, day by day, new bacterial strains are becoming anti-biotics-resistant. That's why sterilization reels developed by Sterilization Pouch manufacturers such as Aarohi Sterilant have become crucial for clinics' and hospitals' sterile units.
Applications Of Sterilization Wrap Rolls
Sterilization wrap rolls are used to sterilize instruments in various fields like medicine, pharmacy, and laboratory.
---
What Makes Our Sterilization Reels Unique?
We – Aarohi Sterilant is one of the best sterilization reel manufacturers that offers a wide range of sterilization products. Here are a few things that make our reels stand out from the others:
Our reels are closed on three sides and made up of multi-layer transparent PET/PP film and 60gsm and 70gsm medical kraft paper.
The reels are made of a reinforced film which will minimize the tearing risk.
It consists of transparent adhesion channels and strong edge resistance.
Superior barrier with 60gsm to 70gsm medical grade paper
The reel has a high-resistant, strengthened, and non-toxic film.
Get In Touch With Us Today!
In short, if you are looking for the best sterilization roll manufacturers and sterilization products like reels, pouches, etc., for packaging individual items, smaller sets, instruments, etc, connect with Aarohi Sterilant today. Our sterilization reels offer hygienic storage of instruments and other clinical items, which makes them ready to use.
---